Committed to the best quality
Recovery of waste titanium residue
Summary:
Recovery of waste titanium residue
Summary:
With the development of science and technology, especially the development of aerospace and other industries, the increasing demand for titanium materials has greatly promoted the development of China's titanium industry, but at the same time, a large number of titanium residues and wastes have been produced. Due to the unique processing technology of titanium and titanium alloy, the yield of titanium materials is low, generally about 50%. When finished parts are made, the yield is only 10% ~ 20%. Therefore, the recycling of titanium residues and wastes has become the key to save resources and reduce costs.
The sources of residual titanium and waste titanium are very wide. For example, the waste titanium produced in the production process of sponge titanium, its upper skin, bottom and side parts are stained by impurities such as iron, chlorine, oxygen and nitrogen, which do not meet the product quality standards. These edge leather materials and other materials must be treated and recycled; In addition, there are important sources of waste titanium from titanium ingots, residual titanium from processed materials (corner residues and titanium chips), residual titanium from titanium materials processed into titanium products and waste titanium products.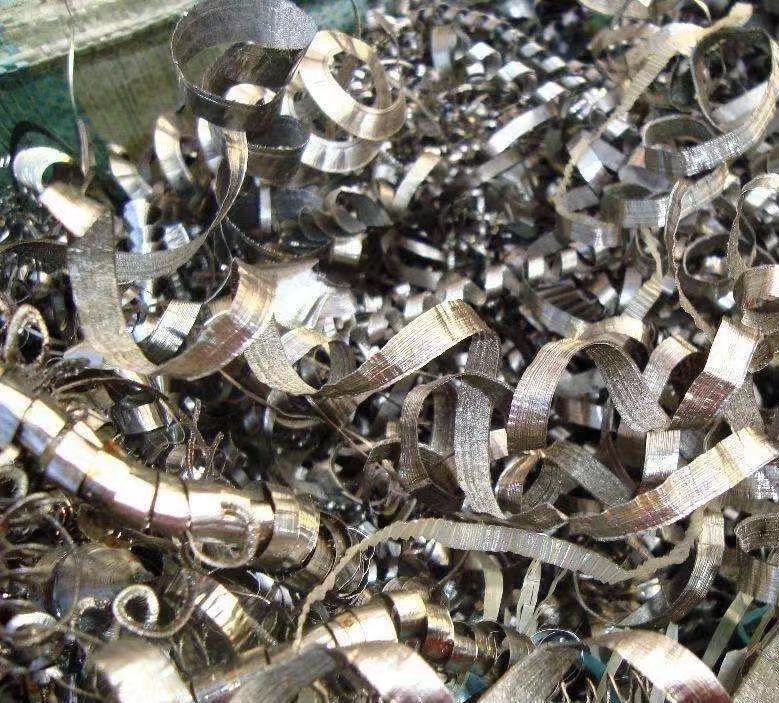 Due to the large amount of waste titanium, comprehensive utilization is promising. Therefore, many waste metal recycling companies have been established at home and abroad to specialize in the recycling of waste titanium and other metals. The earliest research on the recovery of waste titanium and titanium alloy in China began in 1968. After decades, great progress has been made, and the recovery technology and process are relatively mature.
(1) The uncontaminated residual titanium, including the processed corner leftovers and titanium chips, has a large amount and good quality. It can be used as an additive for smelting iron ingot as far as possible, mixed with sponge titanium and extruded into titanium block;
(2) The massive waste sponge titanium, waste titanium head and waste leftovers of titanium can be used as alloy additives in ferrotitanium industry or raw materials for preparing titanium powder according to their purity and composition;
(3) Substandard titanium powder can be used as deflagration agent in pyrotechnic industry, additive in aluminum processing industry and raw material of powder metallurgy titanium products;
(4) Titanium chips and waste titanium blocks with many mixed materials or impurities can be processed into high titanium iron.
In the comprehensive utilization of waste and residual titanium, special attention should be paid to the management of waste and residual titanium. China has formulated an executive standard (GB / T 20927-2007) specifically for the recovery of waste and residual titanium, which specifies the classification, requirements, test methods, inspection rules, marks, packaging, transportation and storage of waste and residual titanium. All titanium production units shall collect and recycle waste and residual titanium materials according to national regulations, save national titanium resources and promote the sound development of China's titanium industry.